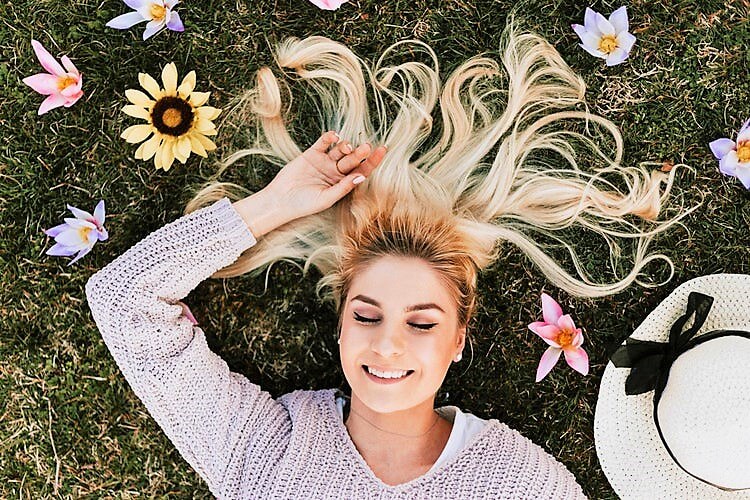 25 Home Treats to Put Your Tired Mind to Rest
Sep 03, 2018
Sometimes being at home is not enough to find your peace of mind. Stress is a tricky enemy, and anxiety is even worse. What's the good news? If you are lucky enough not to suffer from a more serious version of those, there are lots of cheap – sometimes free! – tricks to create your personal happy place.
1. Bubbles for Your Bath
Everyone's favourite remedy to all of your worries: colourful bubbles to make your bath an immersive (pun intended) and extra relaxing experience. If you don't mind shopping in-person and chatting with a nice Lush shop assistant, you will easily get some free samples.
2. Aromatherapy
Aromatherapy has a positive impact on your health and can improve your energy. You can have a full session right at home by ordering some oils as a starter – and if you're UK-based, Aromatherapy Associates is definitely a top choice! The simple fact that they're a luxury hotel supplier selling their products with huge discounts will already make you feel on a holiday.
3. Hair Masks
How many times have you heard that your hair can be stressed, too? If you want to show sympathy to your fellow worn-out hair, a nutrient mask is definitely the way to go. Since hair masks are one-off products, they are cheaper than most stress-reducing products and are a little treat that you can afford quite often. Prices genuinely start from £1 in any Superdrugs or Boots.
4. Candles
Candles are beautiful companions for a little relaxation and me-time. Yankee Candles have become increasingly popular – no surprise, considering the incredible selection of flavours! They're quite pricey, but then again, being extremely popular it is easy to find discounts and voucher codes online.
5. Treats for Your Body
Instead of searching for the most natural products, why not make your own oil? There's nothing more natural than that! Oil, hair masks, anything can be made using everyday ingredients. And don't forget that the process itself is a calming, empowering experience. But if you don't have the time or patience to create your own oils, we recommend popping over to Hempura, and checking out their extensive list of CBD oils. Always reliable, their products are all dedicated to improving your health and wellbeing.
6. Head Massager
Funny, cheap, and yet still an evergreen: it's hard to believe you have never bought a £0.99 head massager online, at least once. The soothing effect might not last for long, but the joy of throwing it on your friend's head without a warning remains a heart-warming, priceless experience.
7. Infusion
Be careful not to mix up tea (which can contain caffeine) with natural infusions (which are caffeine-free). Some of UK's favourite but perhaps not-so-mainstream are definitely Teapigs and Pukka - not the cheapest options, but worth it for £5 or £6 for every 10 teabags.
8. Make Your Own Zen-like Garden
Create a personal mini-garden and choose the scenario you want to see every day. You can pick all the traditional components (a plate or tray for a base, sand, some pebbles) from mainstream furniture shops such as IKEA, Mark & Spencer, and Sass & Belle, and make it more personal with your own additions. Considering the price of a nice zen garden, you can probably save a little bit by only buying the items you want.
9. Bake Something From Scratch
Manual activity can help when trying to ease your mind. Start from something simple, like plain bread or focaccia, to make sure you don't have to use too much mental energy to follow the instructions, and focus on the physical feelings – there's nothing quite as relaxing as dipping your hand in some warm fluffy dough.
10. Healthy Food
Get your hands on some fresh, healthy vegetables and fruits. You can even get them delivered at home thanks to Amazon Fresh.
11. Go Green!
Surround yourself with plants! But always check which species of plants are good for your bedroom, which foliage detoxifies the air, and what plants you shouldn't sleep next to. Having a few leafy additions can give a daily, free boost of oxygen and healthy benefits to your home.
12. Make a Delicious Energy Drink
Your body might be running low on some essential elements (like magnesium), and sometimes it's not easy to get enough of everything from your normal diet. Grab some supplements or vitamin from a trusty source (like Holland&Barrett), dilute them into a bottle of water, and here comes your healthy boost of energy!
13. Podcast
Some people prefer listening to music or background sounds, while other people prefer spoken word. Find a podcast you like, focus on a podcast speaker whose voice you find particularly soothing, and get lost in a new series. Some of them are actually designed to help you relax like Sleep With Me, The Daily Meditation Podcast, Deep Energy Podcast, and The New Yorker Fiction podcast.
14. Background Noises
If you are away from your usual environment, you can recreate a familiar background soundtrack thanks to some useful apps. You can also use apps that specialize in the relaxing sounds of nature - and most of them are completely free!
15. Fidget Spinners
According to the public, spinners are becoming increasingly popular because they have a relaxing effect on anxious people.
16. Start a Happiness Journal!
Choose one of the many interactive journals that help you focus on the positive aspects of your life, manage your stress levels by creating a plan, and work toward your goals.
17. Colouring Books for Adults
Now extremely popular, therapy colouring books are available almost everywhere – online and in-store. You might think colouring is just for kids, but no doubt you will change your mind in a heartbeat when you see some of those stunning, extremely complicated patterns. Good luck.
18. Work Out (not just Yoga!)
"Endorphins make you happy!", a wise blonde lawyer once said. All exercise, if you practice correctly, has a positive effect on your body and mind. There is also a surplus of free exercise videos on Youtube and in your app store.
19. Holiday Vibes
Find a perfume that reminds you of your favourite or most recent holiday - lavendar for Southern France, ocean breeze for Portugal, cinnamon for Sweden, and so on.
20. Download a Mindfulness App
'Mindfulness' is the magic word to describe a positive, NHS-approved method to clear your mind and relax - a sort of meditation to manage everyday anxiety. Some completely free apps that you should check out are Smiling Mind, Insight Timer, and MindFi. Although some of the best-rated ones (such as Headspace) have a free plan and an optional premium subscription that doesn't go over £9.99 per month.
21. Audiobooks
Get the audiobook of your favorite novel and experience the story in the most relaxing way. Audible, or course, has a free trial so you can see if this is the relaxation method for you.
22. Music Pillow
You can listen to your music while snuggling with a super comforting pillow where you can plug in your headphones. You can find it almost anywhere online, but you can grab it from Argos for just £20.
23. Marathon Your Favorite Show
You can jump from one free trial to another (Netflix, Amazon Prime, and so on), but honestly, most streaming services are a great value for their price!
24. ASMR
The best way to understand ASMR (or "Autonomous Sensory Meridian Response") is to try it for yourself - look it up on YouTube! You're sure to find hours worth of content - you're welcome.
25. Become a Pet Boarder
Finally, for those who want to go the extra mile for a relaxing experience, why not become a pet boarder? Pet boarders host their client's pets in their own home. You can do this without becoming a professional boarder by joining BorrowMyDoggy - a fun, easy website that connects pet owners who cannot take care of pets full-time with eager pet-lovers who are ready to help.