10 Halloween Fashions & Accessories For Under 20 Pounds
Oct 11, 2018
Pumpkin carving, horror movies, and dressing up means only one thing: it's Halloween! With October 31st rapidly approaching, shopping for an elaborate costume can be both stressful and exhausting. Why spend time and money on clothing only suitable for one month? Luckily, Zaful has exactly what you're looking for—trendy and affordable Halloween-themed fashions all at the tip of your fingers. If you're having trouble deciding on what to sport, here's a list of 10 spooky and stylish items that Zaful has to offer, all under £20: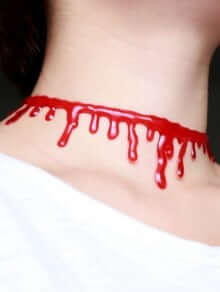 If you want to stay in the holiday spirit but don't want to spend the money, this fun choker is perfect for you. This subtle, yet spooky choker can act as an accent piece to your costume, or simply be a cute accessory for a Halloween party. Nevertheless, this will definitely grab everyone's attention—and it wasn't even £3.
A great match with the blood choker is this slashed moon T-shirt dress. With this dress, you'll look like you glamorously escaped the claws of Freddy Krueger and still showed up to the party looking as cute as ever. The simple moon design goes well with any accessory, and a red lip would make everyone at the party turn their heads.
Keep it cool and simple with this punk-rock skull tank. Add accessories to make it even spookier, or leave it as is—either way, you're ready for Halloween without thinning your wallet!
Keep your bottom half in the Halloween spirit with these high-waisted, jack-o-lantern patterned leggings! These bold pants would go great with the skull tank above, or any solid top. Make a statement and rock these leggings at any Halloween event!
Keep your belongings safe with this faux fur bat bag! The spooky red and black color combo adds darkness to any outfit, not to mention the much needed devil tail.
If you already have the perfect Halloween outfit ready, complete the look with these stylish skull earrings! These minimalist earrings go well with just about anything, and who said skulls were just for the month of October? Keep it spooky and wear these out anytime, anywhere!
This flirty top has the perfect amount of skulls to get you and everyone you know in the Halloween spirit. Keep the skull craze up by accessorizing this outfit with the skull earrings, or let the top speak for itself. Either way, you're dressing up in style this Halloween.
This jack-o-lantern-sleeve cropped hoodie is perfect for a casual night out. Sometimes it's not about scaring people, but just showing your appreciation for Halloween! Pair it with jeans or go pumpkin wild and pair it with Zaful's pumpkin leggings.
Giving someone a hug has never been spookier. Available in 4 colors, this batwing shirt is a subtle way to stay in the spirit this Halloween. Also, a perfect combo with Zaful's bat crossbody bag!
This sassy T-shirt dress is a casual and cute way to show some love for Halloween this year. Dress it up or leave it as is—you're ready for Spooktober with this skull dress either way!