Don't Let Being Broke Stop You: How You Can Affordably Travel As a Student
Aug 29, 2018
It's hard to disagree with the old adage that travel broadens the mind. It follows that for the student mind, which is usually in the business of getting all the broadening it can, the prospect of seeing some of the world must be quite a draw. However, a student's pockets are rarely bottomless, and the cost of some trips abroad can seem dizzyingly high. Fortunately, there is no reason why the ambitious student traveller should be held back by a lack of funds. The following looks at some tips that could turn a dream holiday into reality.
Select Your Destination With Care
It's a good idea to investigate in a little detail the relative cost of living of places you'd like to visit, remembering that the airfare will not necessarily indicate how much your day-to-day expenses will be when you get there. A number of South American and Asian locations are, for example, much more affordable to stay in than those in Europe and North America – and just as fascinating to visit. Online cost of living calculators will help you decide.
Use Specialist Student Travel Agencies
In operation since 1979, STA Travel bills itself at the largest student and youth travel organisation in the world and specializes in cut-price deals for young people. They have, of course, an online presence, but there are also over 50 branches in the UK, where you can not only book your trip but also get detailed advice. As always, though, it pays to shop around, and other student travel agencies (StudentUniverse, for example) may also be worth a look.
Investigate Cheap Sleeping
If swanky hotels are out of the question, there are always hostels and their equivalents. But it could be worth your while looking at even cheaper options. The likes of CouchSurfing, for example, costs no more than the price of a gift to your host and may result in your making some of the best friends you've ever had. If you're not familiar with how CouchSurfing operates, their app will tell you all you need to know.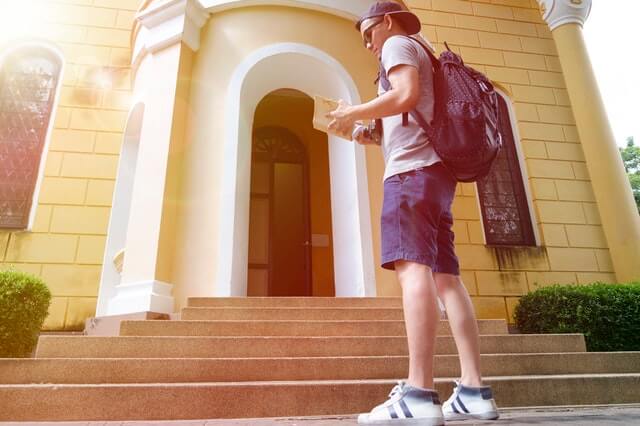 Get An ISIC Card
The International Student Identity Card is the 'only internationally accepted proof of bona fide student status' and offers access to 'over 150,000 products, services and experiences relevant to all aspects of student life'. It is recognised in more than 130 countries, making it a must-have for the student traveller. Application can be made online, and the current cost is only £12 a year.
Planning ahead to get a good idea of how the public transport system in your destination works could save you a packet. Many countries have cheap, efficient and integrated public transport systems, and it would be money down the drain to get a cab from, say, the airport to your accommodation for thirty times the cost of the bus. And don't forget that for touring around town, it would be a big surprise if there wasn't some kind of bike-sharing scheme in operation where you're going, allowing you to stay fit while seeing the sights.